Thresholds & Weatherstripping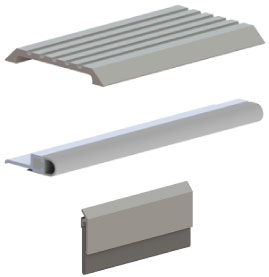 Commercial Door Thresholds & Seals
We offer a wide variety of thresholds, jamb weatherstrip sets, press-on smoke seal, rain drip caps, door sweeps and meeting astragals for virtually any type of door application. Intumescent products are available for positive pressure solutions to include fire, smoke, light, and sound transition.
Complete Weatherization Kits
Increase Energy Efficiency
Prevent Water, Dust, Insects and Smoke From Entering
Note: All thresholds, sweeps and weatherstrip are supplied full-length and must be field-cut, to size.
Saddle Thresholds

ADA Compliant – Meets ANSI A117.1 Accessibility Codes


Width: 5″
Height: 1/2″
Length: 36″, 48″ , 72″, 96″
Finishes: Aluminum, Dark Bronze
#10 x 1-1/2″ Flat Phillips Head Screws Included








Panic Thresholds

Width: 5″
Height: 1/2″ or 1″
Length: 36″, 48″ and 72″
Finishes: Aluminum
#10 x 1-1/2″ Flat Phillips Head Screws Included








Rubber Seal Door Sweep

Aluminum Framing
Sweep Materiel: Heavy Duty Rubber
Length: 36″ and 48″
Finishes: Aluminum, Dark Bronze
#6 x 5/8″ Sheet Metal Screws Included








Brush Seal Door Sweep

Aluminum Framing
Sweep Materiel: Nylon Brush
Length: 36″ and 48″
Finishes: Aluminum, Dark Bronze
#6 x 5/8″ Sheet Metal Screws Included








Drip Cap Door Sweep

Aluminum Framing
Sweep Materiel: Vinyl
Length: 36″ and 48″
Finishes: Aluminum
#6 x 5/8″ Sheet Metal Screws Included








Screw-On Jamb Weatherstrip

Designed to be applied to the "stop" perimeter of the door frame. Includes a heavy-duty rubber seal with aluminum framing and stainless steel screws. Finishes: Aluminum, Dark Bronze

Adhesive Smoke Seal Weatherstrip

Designed to be applied to the "stop" perimeter of the door frame. Self-adhesive application. Made of thermoplastic rubber. Sold in sets or by the roll. Available in black, brown & white.

Overhead Rain Drip Guard

Attach to Top of Door Frame
Finishes: Aluminum, Dark Bronze
Width: 2-1/2″
Height: 1-1/2″
Length: 40″, 52″ and 76″








Double Door Meeting Stile Astragal

Used at meeting stile (gap) on pairs of doors (one per door)
Aluminum Framing
Seal Material: Heavy Duty Nylon Brush
Finishes: Aluminum, Dark Bronze
Length: 84″ or 96″
#6 x 5/8″ Sheet Metal Screws Included