Protect3 Fire-Rated Safety Wire Glass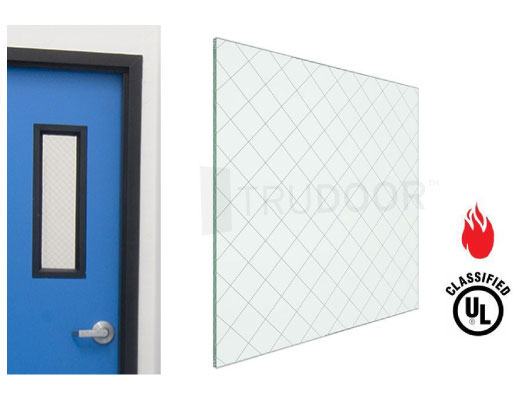 20-90 Minute Rated Fire, Safety and Security - triple protection all in one
Protect3™ Safety Glass is a 1/4" thick glazing material consisting of fire-rated wire glass with a surface applied fire-rated and impact-safety rated film. Protect3™ is listed and meets all building code requirements for use in door vision lites, sidelites, transoms and borrowed lites. It's an attractive and economical glazing solution for high traffic areas requiring fire-rated glazing – perfect for schools, hospitals, institutions and commercial projects.
Full Sheets In Stock - Cut to Size & Labeled, Per Specifications
Fully Tested and Approved - UL Classified and Labeled (up to 90 minutes)
Fire-Rated - Impact-Safety Rated - Hose Stream Tested
CONFIGURE & GET PRICE
Need a custom size piece? Call us for a quote at 1-844-878-3667
Best value! Highest performance / Low cost fire-rated option
Fully tested and approved - UL Classified and Labeled
Fire-rated up to 90 minutes with required hose stream test
Impact-safety rated to ANSI Z97.1 and CPSC 16CFR1201 (Cat. I and II)
Passes 400 ft-lb impact tests
Passes positive pressure test standard UL 10C
Passes air blast testing – minimum Level 3 @ 4.0 PSI
Security performance better than regular tempered or annealed glass
Surface-applied safety film
High quality polished surface and true color rendition
Embedded wire mesh - Diamond pattern
Visible Transmission: 86%
Large sizes available: up to 48" x 96"
Thickness: 1/4" (6.8mm) - Weight: 3.6 lbs/ft2
Suited for use with standard fire-rated frames with the same rating
Maximum installed size: depends on application and fire-rating (see table)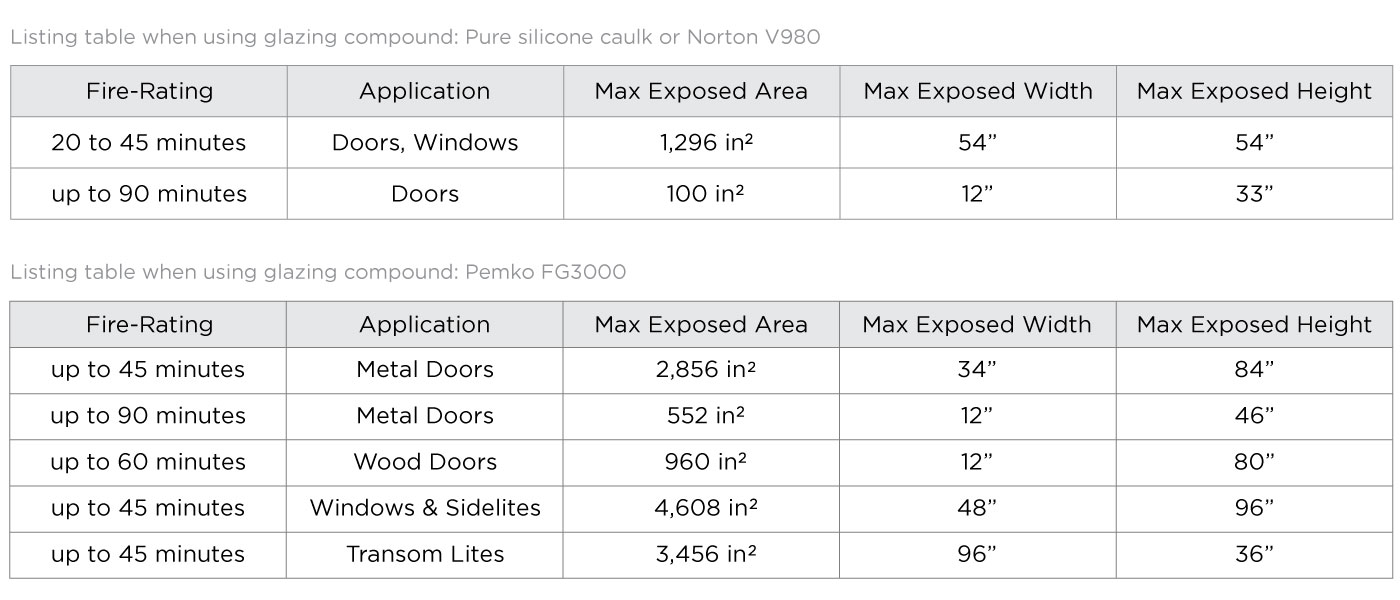 UL 9, UL10C, UBC 7-2 (1997), UBC 7-4 (1997), NFPA 257, NFPA 80, ASTM E2010-01, ASTM E2074-00, ULC CAN4-S104, and ULC CAN4-S106
Classified and labeled by Underwriters Laboratories, Inc. for the United States and Canada with File-No. R39507 and/or R25738. All fire tests performed in accordance with UL 9, UL10C, UBC 7-2 (1997), UBC 7-4 (1997), NFPA 257, NFPA 80, ASTM E2010-01, ASTM E2074-00, ULC CAN4-S104, and ULC CAN4-S106. Note: This product is not considered a barrier to radiant heat and has not met the ASTM E-119 or UL 263 test standards
Labeling: After cutting, each lite of Protect 3™ Safety Glass fire-protective glass shall be permanently labeled according to local building code requirements with product and manufacturer's name, UL certification mark, fire rating, etc.
Trudoor is certified by UL to cut, re-certify and label fire-rated glazing materials. Our facility undergoes routine inspections to verify that modifications are done in compliance with the requirements of the UL specification listings. All material is tested in accordance with NFPA codes and standards.
Protect3™ is a trademark of Glassopolis Inc.
Protect3™ Fire-Rated Safety Glass in Door Vision Lites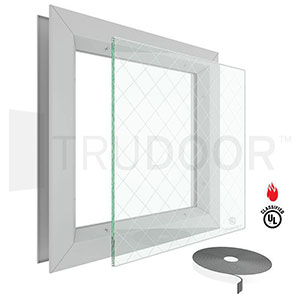 Protect3™ Safety Glass is available in a complete vision lite kit (Frame, Glass & Glazing Tape).
We stock a HUGE inventory of vision lite frames in gray or bronze finish – for use with 1-3/4″ thick fire-rated metal or wood doors.
Common Sizes with a 90 Minute Fire-Rating include: 12″ x 12″, 5″ x 35″, 6″ x 27″, 7″ x 22″ and 8″ x 18″ (all 100 square inches or under of visible glass) – other common 20 to 60 Minute Rated sizes include: 8″ x 32″, 24″ x 30″ and 24″ x 56″. Custom sizes available.
All lite kits are professionally packaged to ensure safe delivery throughout the USA!