Commercial Fire Rated Wood Doors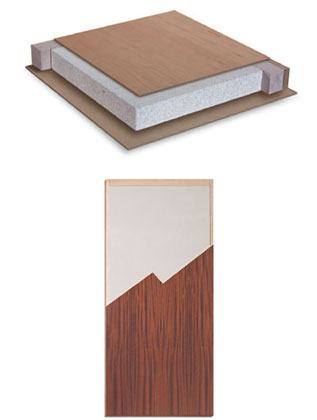 Mineral Core Fire-Rated Wood Doors
Architectural grade wood fire doors control the spread of fire and smoke for up to 1-1/2 hours (90 Minutes). Fire-Rated wood doors are available in a variety of veneers, styles and sizes. Fire doors often are used on openings leading from corridors to offices, closets, storage rooms, stairwells, mechanical rooms or any other opening that penetrates a fire barrier wall.
1-3/4" Thickness Only
Various Grains and Finishes
Mineral Core Doors: 45, 60 or 90 Minute Rated
*(Mineral Core) includes double bevel, hinge and single bore lock preps.
Call 1-844-TRUDOOR for a quote or use our Quote Builder (Be sure to add fire-rating requirements in the notes section, as doors are quoted non-rated unless specified).
Fire-Rating: 45, 60 or 90 Minute Label (Warnock Hersey-WHI)
Specifications: 5 Ply Construction
Thickness: 1-3/4″ Only
Core: Gypsum Mineral
Temp Rise: 30 Minutes, 250 Degrees Maximum
Stiles/Rails: Laminated Composite to Wood, Specific to Rating
Veneers: Plastic Laminate or 2 Ply Fiberboard (HDF) Backer Wood Veneers
Machining: To Specification
Lites: Limited Sizes w/ Fire-Rated Glass
Louvers: To Specification
Fire-Rated Door Frames Available
Made in the USA
Fire doors are required to be self closing and positive latching. Door frame and hardware must also carry the appropriate fire label.
Metal Doors must be used for 3 Hour Fire-Rating
Requirements for a Fire-Rated Opening
Five Basic Requirements for a Fire Rated Opening