Economy Prefinished Wood Doors
Prestained Solid Core Wood Doors
An economical alternative to standard prefinished doors, the ColledgeGuard door offers a deeper and bolder grain branding process, for a unique and superior upscale appearance. This new technology is perfect for light commercial applications, such as office buildings, where a pre-finished surface is desired, at an affordable cost. Eliminates the issues of a field finished door – Save time and money!
1-3/4" Solid Core Construction
Door skins made from industrial grade HDF board
Color coordinated pre-painted wood edges
Quick ship sizes: 3'0" x 6'8" or 3'0" x 7'0"
*includes double bevel, hinge and single bore lock preps
CONFIGURE & GET PRICE
3 Ply construction. Meets or exceeds industry standards of WDMA I.S.1;
Thickness: 1-3/4" Only
Quick Ship Sizes: Width – 3'0″ : Length – 6'8″ or 7'0″
Non-Stock Sizes: Up to 4'0″ x 8'0″ (4-8 Week Lead Time)
Core: 28-30lb particleboard – ANSI A208.1 Grade LD-1
Stiles: Softwood; Width = 1" Nominal, 13/16" Minimum after prefit size
Undercut: 3/4″ Standard
Veneers: 2 ply high density fiberboard (HDF) backer wood veneers
Machining: To Specification
Lites and Louvers: To Specification
Fire Rating: Non-Fire-Rated (Optional 20-Minute Fire Label) – See Fire-Rated Wood Doors for Mineral Core 45-90 Minute Rated
Made from environmentally friendly materials
Supplied with 5-mil peelcoat protective film
Available in Three Finishes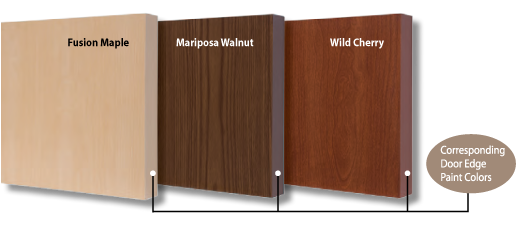 Fusion Maple, Mariposa Walnut and Wild Cherry