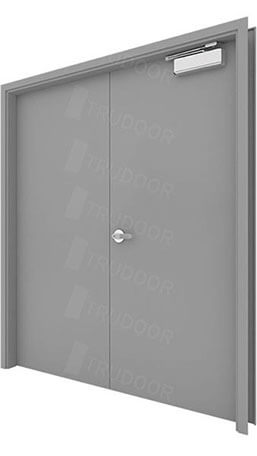 Pairs of Hollow Metal Doors
The active door of the pair is typically prepped for a locking device, such as a lockset or exit device. The inactive door (or fixed door) is prepped for flush bolts (top and bottom) and includes an astragal, which covers or closes the gap between the edges of the doors. Exit devices or push/pull hardware is required to make both doors active.
Inactive Door Prepped for Flush Bolts & Lock Strike
Glass / Louver Inserts to Specification
Equal and Unequal Pairs Available
Configure and Get Price
Double Door Configurations

Active Door w/ Lock + Inactive w/ Flush Bolts

Active Door w/ Rim Exit Device + Inactive w/ Flush Bolts

Both Doors Active w/ Push/Pull Hardware

Both Doors Active w/ Vertical Rod Exit Devices

Both Doors Active w/ Vertical Rod Exit Devices (Less Bottom Rod)

Both Doors Active w/ Rim Exit Devices and Mullion

Stock Door Specifications

Heavy Duty; 18 Gauge Cold Rolled Steel
Polystyrene Core or Honeycomb Core
Seamless Filled Edges or Lock Seam Edge
Prime Painted Gray; Two Part Epoxy Factory Applied, Baked On - No Color Finish Options Available
Can be Prepped for Continuous Hinge Application
Meets or Exceeds Standards for ANSI 250.4 and ANSI 250.8
WHI / ITS up to 3 hour Fire Rating, Positive Pressure and "S" Smoke included
Hurricane Tested Florida Approved FL-13624

Flush Bolts

Flush bolts are used to secure the inactive leaf, so the active door can lock into it. Standard, manual flush bolts are installed in the top and bottom edges of the door. When flipped, the top bolt projects into the frame head. The bottom bolt projects into the floor or threshold.

Dust Proof Strike

Strike to receive bottom flush bolt. Typically used when when no threshold is installed, but can be used with threshold by omitting face plate. Spring loaded plunger returns to floor or threshold level anytime flush bolt is retracted, eliminating the need to clean out the bottom strike.

Overlapping Double Door Strike

Overlapping strike for rim exit devices when used with double doors that do not have a mullion between them. Strike is installed on the inactive door of the pair.