Timely Prefinished Steel Door Frames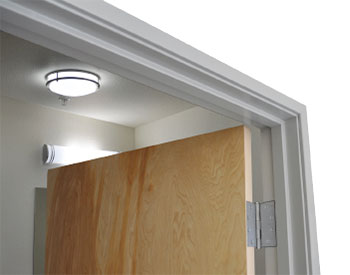 Interior Steel Door Frames for Stud Walls
Timely prefinished steel door frames are an ideal solution for most interior commercial drywall applications. Like hollow metal drywall frames, Timely frames can be installed in walls constructed with either wood stud or steel stud framing but are installed AFTER the the drywall is applied and painted.
Designed for commercial and institutional use in offices, hotels, schools, hospitals and health care facilities.
Fire ratings up to 90 minutes are available for non-glazed openings and up to 45 minutes for glazed openings.
No Painting = Time and Money Saved!
3 Piece KD (knocked down) Frame
20 or 18 Gauge Prefinished steel
Standard Throat Sizes: 3-3/4″ to 7-1/4″
Includes Snap-on Steel Casing Trim
Sidelite and Borrowed Lite Frames Available
Recommended for use with Commercial Wood Doors
Starting at $95
Configure and Get Price
White

Brown

Black

Alumatone

Non-stock custom colors available upon request.

Standard Steel Casing Trim

Timely Prefinished Steel Frame
A = opening width + 1 ¼"
B = opening height + 1″

The rough opening would be 37 ¼" x 81″
for a 3'0″ x 6'8″ door & frame

The rough opening would be 37 ¼" x 85″
for a 3'0″ x 7'0″ door & frame

Installation Instructions